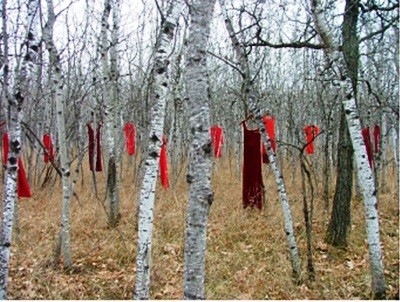 Raising awareness and focusing on the issue of missing/murdered Aboriginal women across Canada.
WOODSTOCK - Red dresses suspended throughout Museum Square will hang empty as physical symbol for missing and murdered Aboriginal women across Canada who have left an empty space in the lives of their loved ones.
Winnipeg artist Jaime Black says she was inspired to create the The REDress Project after seeing a public art action piece performed by women who had family members that went missing. "At one point during that performance there were about 30 women in red dresses who did a choreographed dance to drumming and at the end of their performance they ran around screaming out the names of people who are missing as though they were looking for them and it was just such a powerful thing to witness."
Black's exhibit has travelled east of Manitoba for the first time as part of ZONTA Club of Woodstock's 16 days of activism campaign to end violence against women.
Art Gallery Director/Curator Mary Reid says Black's project is very well known in western Canada and being familiar with her work, invited Black to bring her exhibit to Woodstock. "This exhibit is a partnership with ZONTA and we're also partnering with DART (Domestic Assault Review Team). So it really was those two organizations that approached me in terms of trying to bring forward something around the 16 Days of Activism through ZONTA and they've really targeted the missing and murdered Aboriginal women. But I thought it was very important to be able to bring this issue forward in eastern Canada."
The dresses will hang in Museum Square through the weekend with Gallery Staff removing the pieces on Monday however organizers say if some go missing before then, it will further strengthen the intent and understand of the artwork.
Black sat down for a sharing circle Thursday night to discuss her The REDress Project at the Art Gallery. "I hope that this project can bring people together who may not be interested in indigenous people necessarily or may not have met an indigenous person in their life or people who are not necessarily interested in art, to encounter this and also indigenous people who are facing this violence on a daily basis to come together and start having conversations and perhaps creating more of an allies culture around indigenous issues rather than a divisive culture around it."