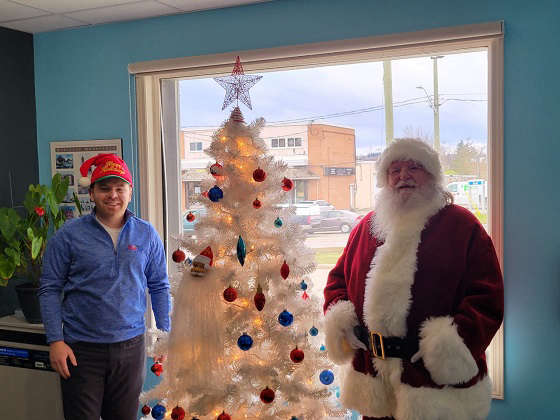 Heart FM's Cody Hayward and Santa Ron will be part of a convoy going through Woodstock today, collecting toys and gift cards for families in need.
WOODSTOCK - Santa's mailbox starts today at Heart FM.
Afternoon drive host Cody Hayward says you will see a convoy going through town today.
"Starting today, we are going to be going around Woodstock to collect toys and gift cards, because it is the first day for Santa's Mailbox. If you see the convoy, make sure to stop and wave. We are going to have some special guests along the way as well, Woodstock Police, Woodstock Fire will joining us as well."
Hayward says all of the donations will be going to some great local causes.
"We are going to be doing this for the entire week and it will be donated to Operation Sharing and split between Children's Aid Society, Ingamo Homes, DASO, it is going to a lot of great places across the City and County."
Santa Ron will be joining the convoy and he will be dancing in front of the Heart FM studios all week to help spread some Christmas cheer.
You can stop the station located at 223 Norwich Ave in Woodstock all week with a gift card for Operation Sharing's Christmas Place. You can also bring your letters to Santa and drop them off in our cool retro mailbox that will be in the lobby of the station.