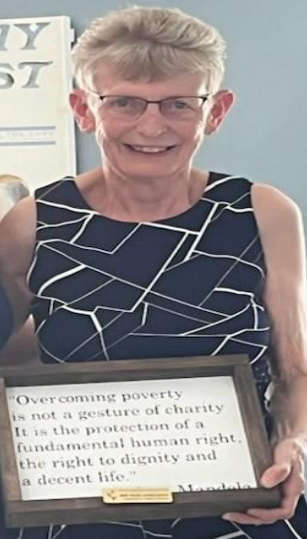 Photo Credit: Social Planning Council Oxford
The Social Planning Council Oxford has presented Marilyn Schmiedl with this year's Social Justice Award.
OXFORD COUNTY - The President of Operation Sharing's Board of Directors is the recipient of this year's Social Justice Award.
The Social Planning Council Oxford says Marilyn Schmiedl is known for helping people in crisis or in need of a hot meal, warm clothing or a friendly smile.
She has been an Operation Sharing board member for 20 years and she has spent the last decade as President. She's known as Mrs. Christmas at the Christmas Place. Schmiedl also dedicates her time to Bullwinkle's Eatery, the Food for Friends Program and Coats for Kids and Adults.
The Social Justice Award always goes someone with an ongoing commitment to social justice causes, has clear impact on the community and is known for being a trailblazer when it comes to diversity, equity and inclusion.
Schmiedl accepted the Social Justice Award during the Social Planning Council Oxford Annual General Meeting on Monday.