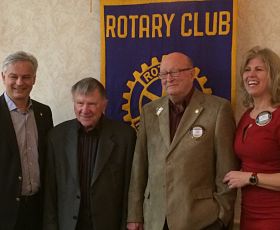 Woodstock Rotary club celebrating 90 years of service
WOODSTOCK - The Rotary Club of Woodstock is celebrating 90 years of service.
They held their annual Christmas meeting Monday and donated $15,000 to the Children Aid Society of Oxford's Cribs for Kids program. "It's a program that they are giving cribs to those who don't have the resources and can't do it," says President Chris Cunningham. "It's exciting for us to be able to do that because we are obviously promoting within the community, healthy, safe, longevity for our children and this is an issue they don't get funding for so it's a program that can't move forward unless they get additional funds."
Cunningham says they will be able to purchase 50 cribs to give to families who wouldn't otherwise be able to have adequate furniture for their baby.
The club also took time to recognize 2 long time members celebrating 45 and 50 years in Rotary. "Dr Fenton as well as Dr Szasz, so combined the two of them, I mean, that's 95 years combined but 45 and 50 years so they have been Rotarians for a long time. They have seen things change but the beautiful thing is those two gentlemen show up every single week. They believe in what we stand for and that's service above self. They are always putting others first."
For his extreme commitment to the club, Dave Harris was given the Service Above Self Award.
"I really enjoy just being involved in the sport of dragon boating and it's one of the things that -- anything that you're involved in from a charitable prospective -- if you love the sport or love the activity then that makes it a lot easier. For me, it's just been a great experience over the last 10 or 12 years to be involved in dragon boats and helping the club fundraise to do all the great projects that we do."