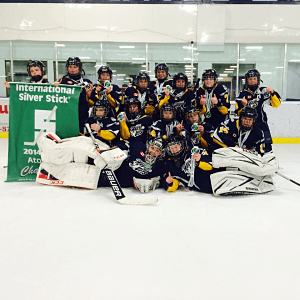 Woodstock Jr Navy Vets Atom MD are on to Pelham for the International Silver Stick Finals
HALIBURTON - The Woodstock Jr. Navy Vets Atom MD team attended the Regional Silver Stick Qualifier Tournament in Haliburton, December 6th and 7th.
They boys had a strong showing at the tournament winning their first game 11-0. Their second game didn't go in their favour as the Jr Vets lost 4-2.
With a must win game to move on, there was tension in the air. The boys fell behind late in the first period 1-0 but turned up the heat in the next period and ended up skating out of the game with a 4-1 victory, securing a trip to the semi finals on Sunday morning.
The boys were able to pull off a dominating 7-3 victory and launched themselves into the finals!
Woodstock was headed to a rematch in the finals with the team they lost to 4-2 on Saturday.
Working hard as a team, they pulled out a commanding 5-1 lead to take the final game and victory of the tournament! They were the champions of the Regional Silver Stick Qualifier and earned a trip to the International Silver Stick Finals in Pelham January 8-11, 2015.
Every one of the boys contributed to make this a great weekend of hockey, that they will never forget.
Article Submitted by: Kevin Ball