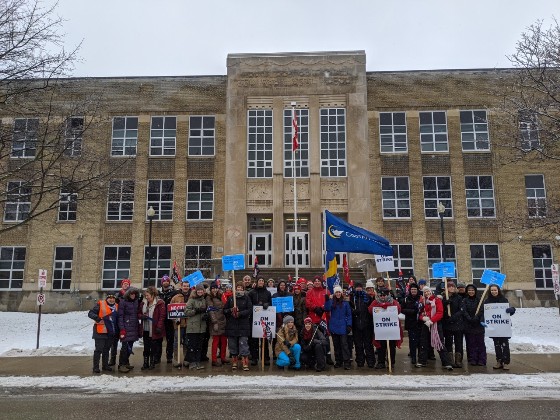 High School teachers walked the picket lines in Woodstock today. 
WOODSTOCK - High School teachers and support staff walked the picket lines in Woodstock today.
You will see the teachers picketing in front of CASS, WCI and Ernie Hardeman's office. Members of the Ontario Secondary Teachers Federation conducted the one day strike as talks with the Province continue to stall. OSSTF President of District 11 John Bernans says both sides remain far apart on key issues.
"The government continues to insist on increasing class sizes to 25 students to 1 teacher, from an average of 22 to 1 to an average of 25 to 1. We know that will have a significant impact on student learning and student safety. They have also proposed removing all caps, so whether it is a technology class that is normally capped at 20, because students are working with saws, or an academic, there will be no caps on class sizes."
All Thames Valley Secondary Schools were closed today because of the one day strike from the OSSTF. Things should return back to normal tomorrow. What will be interesting to see is where the talks and labour action go from here.
Bernans says it's not just teachers who are affected by this strike.
"We also have support staff, who range from physiologists, school support counsellors, speech language pathologist, social workers and many others who support students. Some of them work in Elementary schools, so there will be a loss of service in Elementary schools as well. They are also supporting the job action and I want to acknowledge them and I want to acknowledge and thank all of the supporters that we have had from the parents and the groups that have come up to support us."
Teachers in the London District Catholic School Board are not part of the OSSTF and those schools were all open today.
Teachers are walking the picket lines at CASS and WCI this morning.

Posted by 104.7 Heart FM on Wednesday, December 4, 2019
Teachers are also picketing downtown in front of Conservative MPP Ernie Hardemans office today.

Posted by 104.7 Heart FM on Wednesday, December 4, 2019