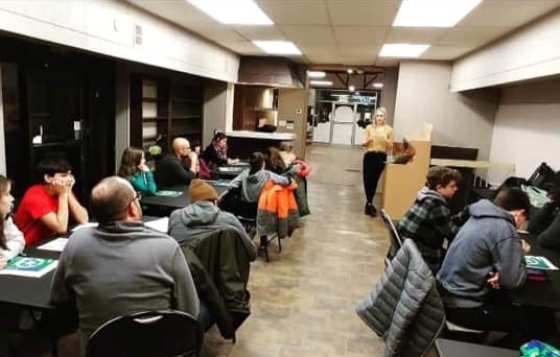 Courtesy: Why Not Us
Why Not Wednesdays is a new program teaching youth in our community about financial literacy and entrepreneurship. The 8 week program in Woodstock features 8 guest speakers, who are local business owners in Oxford County.
WOODSTOCK - Why Not Us in Woodstock is offering a program for kids to learn about financial literacy and encourage entrepreneurship.
The Winter session of Why Not Wednesdays is happening right now and all of the spots are full. President Todd Materick says the kids are learning lot's.
"Why Not Wednesdays is 8 sessions featuring 8 guest speakers, 4 who will focus on financial literacy and 4 on entrepreneurship, so they are local business owners, who have an established business in Oxford County. They show the youths the ins and outs of how to run a business, how to start, the struggles, the hurdles, the good things about being an entrepreneurship."
Materick says the program has been great for the kids and they plan on doing it again in the Fall. Materick says the current session is full and already the kids are learning lots.
"We have already had some great speakers come in, it runs over 4 months, so two sessions a month, we had our first two at Engage Oxford, so shout out to them, that was at the old Dairy Capital Cheese House, that is a space that has been opened to us to do these workshops so that has been great, the next two sessions will be at the Art Gallery."
First Ontario is one of the sponsors of the program and they will handle the financial literacy side of things, explaining how to open a bank account, savings account, investments, what retirement looks like and much more. The kids are encouraged to ask lot's of questions and they try to make it fun. The program was designed for youth between 12 and 17.
Materick says they have a special gift for the kids at the end of the program.
"The cool part of it all, at the end of it, they receive a $100 from us and FirstOntario is looking at matching that, so they will receive $200 if they attend all 8 sessions and that money can go towards a Savings Account or an investment account of their choice, with their parents co-signing, so it's pretty exciting for them that there is a reward at the end of it, on top of learning about financial literacy and entrepreneurship."
You can find more information about the program and all of the amazing programs offered by Why Not Us online here. Materick also wanted to give a huge shout out to Nate Picknell, the Why Not Us Strength and Conditioning coach for helping to line up the guest speakers.