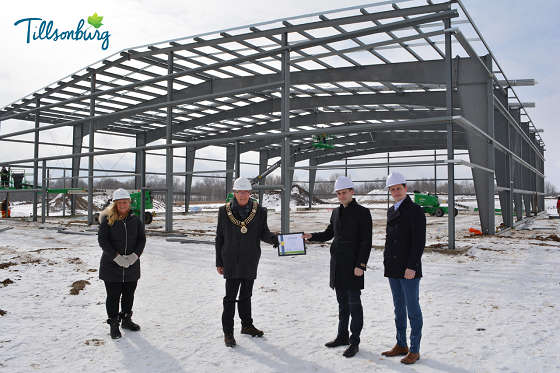 Van Norman Innovation Park has it's first business to open up shop and another on the way.
TILLSONBURG - The newest addition to Tillsonburg's business sector, Van Norman Innovation Park has it's first business.
The newest business to open up shop in the park, Northern Specialty Supplies Inc. who's a locally operated business in the town. During the pandemic, Northern Specialty Supplies Inc. also expanded their wholesale operations to supply health and safety products. The first business to call Van Norman Innovation Park home originally purchased two acres for the company's expansion, they have since purchased a total of four acres from the Town.
Aaron Carpani, President and Chief Operating Officer of Northern Specialty Supplies.
"We have been experiencing strong growth over the last few years and need a modern facility that will enable us to maintain our growth trajectory."
Soon to join Northern Specialty Supplies, North Ridge Realty has just been approved to construct a 14,000 sq ft building with an office, warehouse and a value-added processing building for the Tillsonburg based wholesaler and distributor. Tillsonburg Mayor, Stephen Molnar.
"It's exciting to see the investment the Town has made in Van Norman Innovation Park begin to bear fruit, I'm grateful to our partners and stakeholders, including the Province of Ontario, for supporting us and providing funding to help us get to this point. We're also appreciative of the expertise of our consultant, CJDL Engineers, and of course, Town staff."
Van Norman Innovation Park is located on the south side of Highway 3 near Clearview Dr.