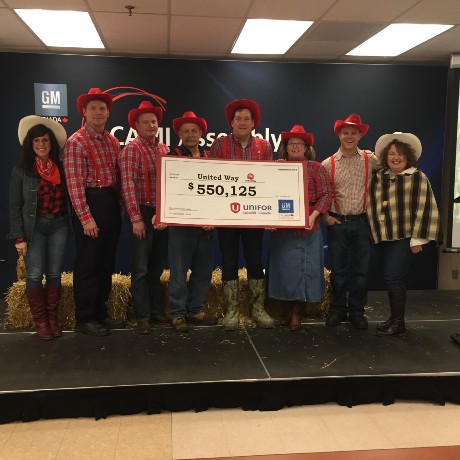 Over $550,000 was donated to the United Way campaigns in Oxford, London and Middlesex today.
INGERSOLL - The GM Canada CAMI Assembly Plant and Unifor Local 88 employees helped raise over $550,000 for the local United Way Campaigns.
Employees celebrated their success today. Co-chair of the GM Canada CAMI Assembly / UNIFOR Local 88 United Way Committee Denise Vyse says the focus of the celebration was targeted on their commitment to supporting local community.
"United Way is an important organization. The work they do in the communities of Oxford, London and Middlesex truly are creating opportunities that help change lives. As a volunteer with Big Brothers Big Sisters, I've been able to experience that impact firsthand. We are so proud of the generosity of our membership. This year's achievement of $550,125 is truly remarkable. We are excited to be able to support the work of United Way."
Executive Director of the United Way Oxford Kelly Gilson called this a tremendous investment in local community.
"It represents the generosity of a team that is truly committed to helping people. We value everything the GM Canada CAMI Assembly / UNIFOR Local 88 team does for and in our community. Today we celebrate so much more than the dollars raised. We celebrate hope for a brighter tomorrow."
The money will be split between the United Way Oxford and United Way London and Middlesex campaigns.