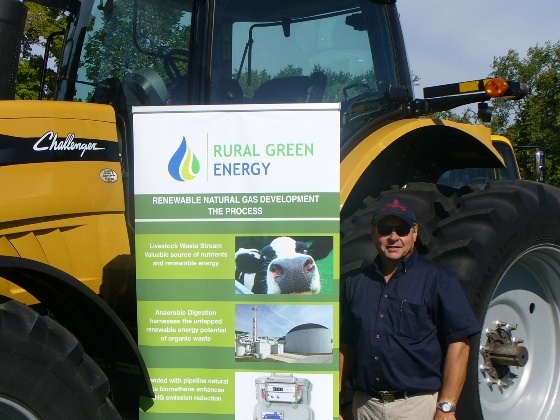 Rural Green Energy is at the Farm Show showing off how the anaerobic digester could mean big savings.
WOODSTOCK - Day two of Canada's Outdoor Farm show is today.
Over 40,000 people are expected to take in the show over the next couple of days.
While the event features the latest in agriculture technology, it also features an exhibit on green energy. Mike Shulman with Rural Green Energy is at the show talking about the new natural gas fueling station that is being built just south of Woodstock.
"We are building an anaerobic digester to produce methane which will be filtered and pumped back into the pipeline and sold as natural gas through the fuel station which is under construction right now just south of Woodstock on Highway 59."
Shulman says their fueling station will be able to provide a green energy alternative for tractors and transport trucks. He says their fuel would save the average company about $10,000 a year per truck on fueling costs and reduce greenhouse emissions.
"Greenhouse gas reduction emissions which is very viable, basically depending on the system you are going to see a 30 to 50 percent reduction on greenhouse gases."