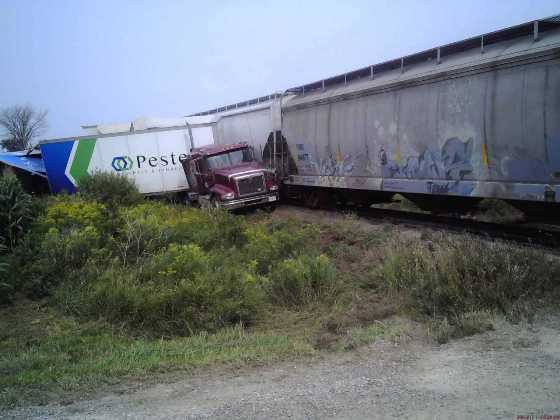 A transport truck slammed into a train in Perth County causing the front two cars to derail.
Nobody was seriously injured after a transport truck slammed into a train on Road 155 in Perth County.
Police say the truck failed to stop at the railway crossing in time and slammed into the train, causing the front two locomotives to derail. The Goderich Exeter Railway train was hauling eight rail cars, five loaded with grain and three were empty at the time of the chras.
The transport truck driver was treated for minor injuries. The GEXR employees on the train at the time were not injured.
As a result of the collision the railway line and Road 155 will remain closed for a few days from Line 32 to Line 34 to assist with clean up and repairing the tracks.
Police are advising the public to avoid the area and obey all road closures. An investigation is ongoing.