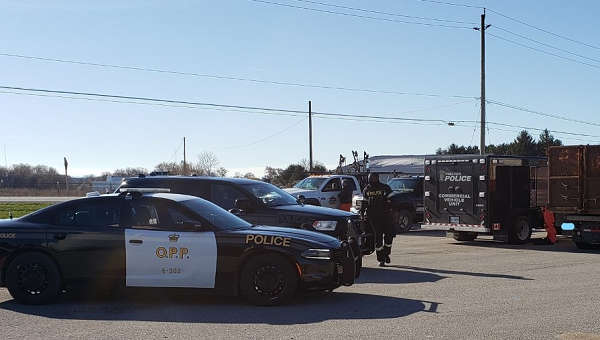 Police say the 54 year old man was impaired and had cannabis readily available when he drove through the two day CMV safety blitz in Brant County.
BRANT COUNTY - A truck driver from Brantford was arrested for impaired driving during a Commercial Motor Vehicle Safety Blitz in Brant County.
Police say they stopped the man on Monday. The 54 year old was taken to the Norfolk OPP detachment for testing. He was charged with impaired driving, driving a vehicle or boat with cannabis readily available and possession of unmarked cigarettes.
The two day blitz happened over Monday and Tuesday in Brant. This was done with members from the Halton Regional Police Service CMV Safety team, Ministry of Transportation, Ministry of Finance, OPP West Region Traffic Incident Management and Enforcement team, Brant OPP Traffic Management Unit and Brant OPP frontline officers.
Over the two days officers completed 54 Level 1 Inspections resulting in 22 vehicles taken out of service. There were 40 Provincial Offence Notices and 23 warnings issued. One impaired driver was stopped and charged accordingly.