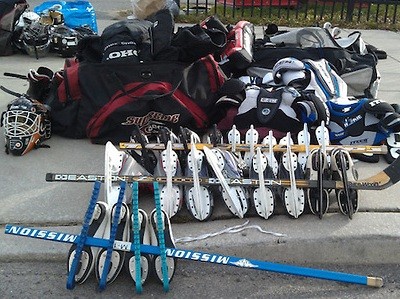 Woodstock Minor Hockey is inviting all newcomers to try the sport for free during March Break.
WOODSTOCK - Woodstock Minor Hockey is inviting kids in the area to learn to play the game of hockey.
They are doing the Just Try It program on Wednesday March 15th. Parents can sign their kids up now and they will get to come out to the rink, learn how to play the game in the morning, followed by a lunch in the afternoon. Fundraiser and Volunteer Rep Fadel Zabian says they will provide all of the equipment free of charge.
"So they come in the morning starting at 8 o'clock and we provide them with everything, I mean from the sticks to the helmets - all the gear. So we start out on the ice and the kids get to learn the game with our volunteers to try it out. We provide a free lunch and then after lunch we have an information session with the parents, we do a wrap up, more information for the parents, and a thank you and what we do is if the kids are interested and come back in September, we put the gear away from them. If they come back we give it to them for free and they can join Woodstock Minor Hockey and try the sport."
They still have a few spots available and you can find out how to sign up online here.