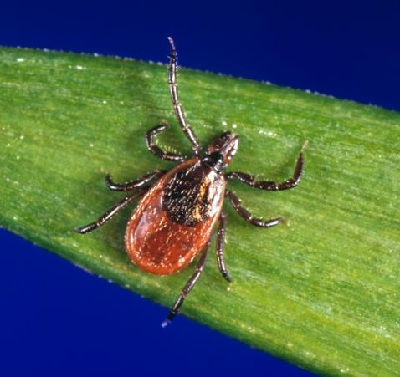 stock photo of black legged tick
Southwestern Public Health are reminding people to protect themselves from ticks this year.
OXFORD COUNTY - Tis' the season and ticks are back. Southwestern Public Health are reminding people to protect themselves this year.
Ticks are small arachnids who feed off of the blood of mammals that carry lyme disease.
Director, Peter Haywood reminds people that when exposed to ticks unprotected you are at risk of receiving lyme disease.
"Well lyme disease is transmitted by the bite of an infected black-legged tick. Basically the tick feeds on blood by inserting their mouth parts into the skin of the person. It takes 3 to 7 days for a black-legged tick to complete a blood meal."
Lyme disease is is an infectious bacteria that if left untreated can cause arthritic, cardiac and neurological complications. Symptoms of the disease include a bull's-eye skin rash and flu like symptoms including headaches, chills, joint and muscle pain, loss of appetite, nausea and fatigue.
Haywood adds that black-legged ticks are found all over Ontario and some of the ways you can protect yourself.
"If your hiking in a woody or bushy area its important to protect yourself by wearing insect repellant containing deet. You also want to consider wearing pants and long sleeves and tucking your pants into your socks."
If you have been exposed to a black-legged tick it's important that you seek medical attention. Lyme disease is treated by antibiotics.
You can also contact Public Health and they will submit the tick for analysis. If the results come back as a black-legged tick they will take that analysis further to check if the tick carries the bacteria. This year there has been no known reports of lyme disease.
If you own a pet its also very important that you protect them as well. Checking your pet regularly for ticks is a good idea as well as consulting your veterinarian for tick prevention. If you find a tick on your dog contact your veterinarian as soon as possible. Also be aware that pets can transmit ticks to humans.