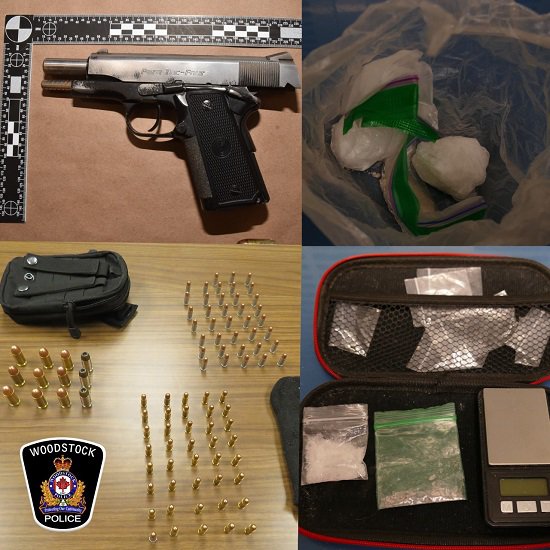 photo courtesy WPS
WPS say they found suspected fentanyl, meth, cocaine, hash and a loaded weapon after a traffic stop on Thursday night.

WOODSTOCK - Woodstock Police arrested two people after a traffic stop in the area of Parkinson Road and Finkle Street Thursday night.
The arrest was made thanks to an investigation by the Woodstock Police Service Drugs and Criminal Intelligence Unit. Officers say they found around $9,420 worth of suspected fentanyl, methamphetamine, cocaine and hash, over $1,900 in cash, and various drug paraphernalia.
36 year old Keith Shawn Dennis of Toronto has been charged with the following:
- Possession of Loaded Prohibited or Restricted Firearm
- Unauthorized Possession of a Prohibited or Restricted Firearm
- Knowledge of Unauthorized Possession of Firearm
- Possession of Firearm Knowing Serial Number has been Tampered With
- Occupant of Motor Vehicle Knowing there was Prohibited or Restricted Weapon
- Carrying Concealed Weapon
- Possession of Firearm or Ammunition Contrary to Prohibition Order x3
- Possession of Property Obtained by Crime Under $5000
- Possession of Schedule I Substance for the Purpose of Trafficking – Opioid (Other thanHeroin)
- Possession of Schedule I Substance for the Purpose of Trafficking – Methamphetamine
- Possession of Schedule I Substance for the Purpose of Trafficking – Cocaine
- Unauthorized Possession of Weapon x3
A 31 year old woman from St. Thomas was also arrested, police did not release her name. She is charged with he following:
- Possession of a Schedule I Substance – Opioid (Other Than Heroin)
- Possession of a Schedule I Substance – Methamphetamine
- Occupant of Motor Vehicle Knowing There was Prohibited or Restricted Weapon
- Unauthorized Possession of Weapon x3