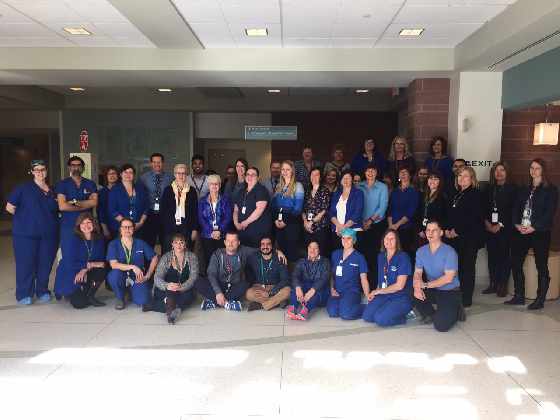 Woodstock Hospital staff dress in blue to raise awareness about colon cancer.
WOODSTOCK - It is a Sea of Blue at the Woodstock Hospital today.
Staff have dressed up in blue to celebrate Colon Cancer Awareness Day. March is Colon Cancer Awareness Month. RN Christine Blum tells Heart FM why the staff at the hospital wanted to wear blue to show their support for this serious illness.
"Colon cancer is the third most common cancer in Ontario, it is also the second leading cause of cancer deaths in men and the third leading cause of cancer deaths in women."
Blum says they are advocating for the RNSF program which is available at the Woodstock Hospital. It was developed to screen for more average patients who may not have routine screening. She is encouraging people to get checked out before it is too late.
"So there is criteria that you have to meet to have flexible sigmoidoscopy with the RN program. Men and women age 50 to 74 need to be average risk so no first degree relative who has been diagnosed with colon cancer and no person history of colon polyps."