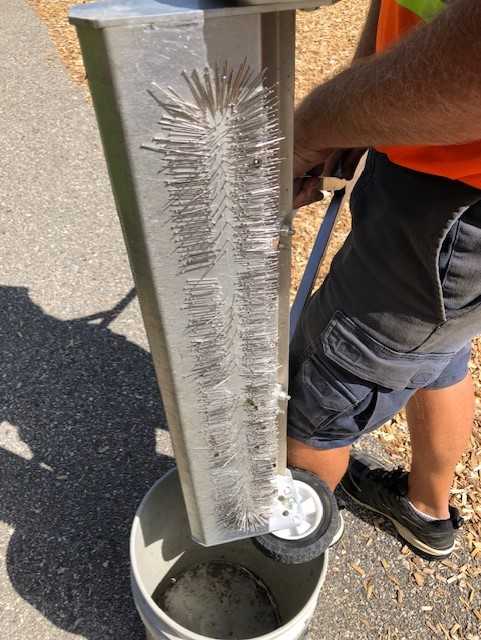 A motion has been put forward to offer a $10,000 reward for anyone with information that leads to an arrest. Woodstock Mayor says the City, Police and council are taking this matter very seriously.
WOODSTOCK - The topic of sewing needles, thumb tacks and other sharp objects being left at local playgrounds was discussed at length at the most recent Woodstock City council meeting.
At least 7 occurrences of this dangerous and deliberate action have happened in the City since early August. The most recent case was this morning at the dog Park in Henry Street. The playground equipment at Southside Park has been targeted multiple times and it has even happened at the playgrounds at the Central Public School.
Yesterday councillor Ron Fraser put forward a motion to offer a $10,000 reward for anyone with information that might lead to an arrest. Council will vote on that motion at their next meeting and Mayor Trevor Birtch is hopeful that an arrest will be made before then.
Birtch says the City, the Police and all involved are taking this matter very seriously.
"This is very disheartening what is going on in the community at the playgrounds and as of today at the dog park as well. I want to ask the public, if they see something suspicious, if you see someone coming into your store and they are purchasing large amounts of sewing needles and tacks, to please give the police a call."
Birtch says they have made upgrades to their camera equipment and they do have cameras set up trying to catch the people responsible.
"I want to assure the public that we have made upgrades to our camera system, but of course during this time with the pandemic when people can use the cover of night, hoodies and masks, it is hard to get images that will show much detail, we will share those images with police and police have taken a consorted effort and stepped up the patrols."
Birtch says they are taking this issue very seriously.
"Council is taking this very seriously, city of Woodstock staff is taking this very seriously, the City of Woodstock staff is taking this very seriously, the police are taking this seriously and I am calling on the community, be careful when you are out there with your family, be vigilant and remember we are the Friendly City and we will get through this together."
Birtch is also asking the public to not resort to vigilante justice.
"As much as we would appreciate those extra set of eyes, I want to remind the public, not to take justice into their own hands as that could have negative ramifications for themselves, anything that you see, notify the police."
He also wanted to thank City Staff, specifically the Parks Department who have been working really hard in keeping our parks clean and trying to stay on top of this.