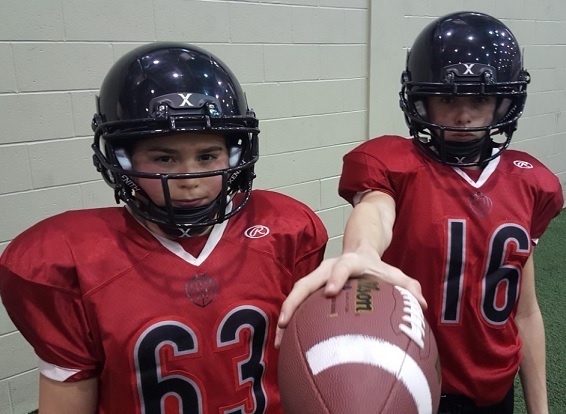 Photo Courtesy Joe Brown
Woodstock Minor Football will be offering players a chance to play travel football as they join the OFL.
WOODSTOCK - Woodstock Minor Football is getting set to join the Ontario Football League.
They will start having travel teams who will take on major cities in the area like London, Cambridge, Brantford, Durham, and they will even play a few games in Toronto. Woodstock Minor Football President Joe Brown says they will likely enter the first year as underdogs and it is a role they will embrace.
"It's kind of a strategy for us to go in and have people underestimate us. In the past we have done some exhibition games against the other centres and we have always done extremely well against them just on an exhibition platform. This first year our goal is to make the playoffs; our goal is to be competitive."
Brown says they are keeping their Wolverines name, however they will be rolling out some new uniforms this year.
"We have just started the process of looking at kind of a different look - we are going to remain the Woodstock Wolverines and we are just going to have a different look so it kind of separates our house league guys and our rep guys."
The Wolverines will still have a house league team for those who don't want to travel and then, of course, the travel team. OFL Chairman Dan Fournier tells Heart FM the league is split up into three divisions.
"So we have a rep division which is highly competitive and goes through the whole circuit, minor development is more regional based and is more focused on developing skills, and then tier 3 is more of a house league fair play rules. It looks like Woodstock will start out in the minor development league and based on how their program develops they will potentially end up in the rep division."