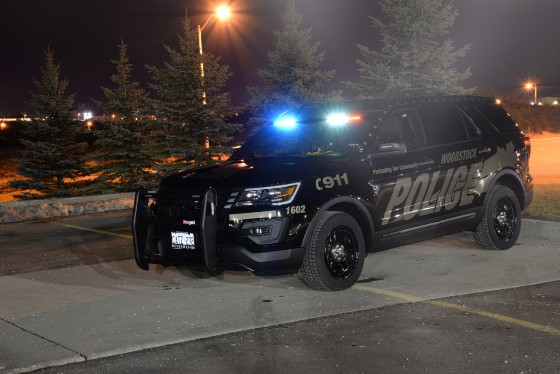 Woodstock Police briefs include a stolen Go-Kart, a catalytic converter theft and several vehicle break and enters.
WOODSTOCK - A Go-Kart has been reported stolen in the Friendly City.
Woodstock Police say Birel Racing Go-Kart was taken from a utility trailer on Dundas Street sometime over the weekend. The locked trailer was parked at a storage business at the time and the culprit cut through a fence in order to gain access to the property.
The Go-Kart is white with red, yellow and bright blue markings. It has "Birel 49" written on the side and it also has a Canada flag on the front and sides.
Police say the thief also stole a Briggs ad Stratton Go-Kart, a black trolley and two red steel boxes filled with hand tools. All of the stolen items have a combined value of over $6,000.
---
WOODSTOCK - The Woodstock Police Service is in the lookout for a suspect after a catalytic converter theft in a parking lot on Burtch Street.
Police believe a white man with dark hair and facial hair stole the catalytic converter from a 2002 Honda Accord early Monday morning.
He was wearing a plaid jacket with a grey hoodie and he was spotted driving a black four-door Mercedes B-class hatchback in the area at around 3:15 a.m.
---
WOODSTOCK - An investigation is underway after someone stole Bell internet cables from a Dundas Street business.
Woodstock Police say someone cut and stole the cables sometime overnight last Thursday.
The suspect is a white man wearing dark clothes. He was also carrying a backpack at the time and he was last seen walking north on Light Street.
---
WOODSTOCK - Several vehicles were broken into in the Friendly City over the weekend.
The Woodstock Police Service is investigating four incidents that took place between Friday and Monday.
The first incident happened on Bruin Boulevard overnight on Friday and a purse was reported stolen.
The second incident took place Saturday night and a wallet was taken. Police say the culprit also used one of the stolen credit cards at a local variety store afterwards. Officers say their suspect has collar length blonde hair and they were wearing a white ball cap and a black mask at the time. They also wrote a white short sleeve shirt over a black long sleeve shirt, jeans, light brown work boots and a backpack.
The third incident happened on St. Andrews Road Sunday night. The thief stole the ownership and insurance from two vehicles.
The fourth break in took place on Devonshire Ave Monday night and several tools were reported stolen.
---
WOODSTOCK - Two sets of keys have been reported stolen from a garage on Lansdowne Ave.
Woodstock Police responded to the theft on Saturday.
---
WOODSTOCK - A 20-year-old man from Brantford has been charged following a break and enter in Woodstock.
Woodstock Police responded to a report of an alarm going off at a business in the east end of the city shortly after 11:00 p.m. Friday night.
Officers spotted the man running away from the scene and they were able to arrest him. He has been charged with break and enter with intent and possession of break in instruments.

Anyone with information regarding any of these incidents should call the Woodstock Police Service at 519-537-2323. You can also submit an anonymous tip through Crime Stoppers by calling 1-800-222-TIPS (8477).