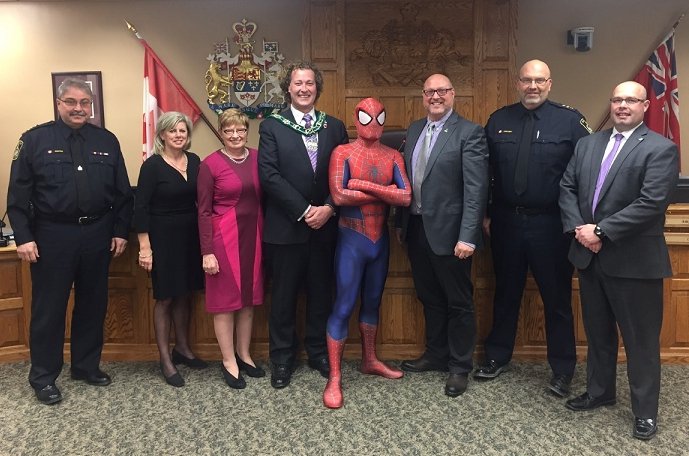 The Woodstock Spider-Man attended City Council to ask for a special celebration to be recognized as an annual event
WOODSTOCK - A special delegation swung into Woodstock City Chambers.
The Woodstock Spider-Man brought forth a motion to ask the upcoming Spider-Man Birthday Bash be recognized as an annual event.
Although the event is dubbed after the web slinger, he says really it's all about helping those less fortunate.
"It's my birthday and I don't want anybody to bring me any presents - I do like presents - but instead of a birthday present bring down food or a money donation for the local food bank."
The Woodstock Spider-Man says the first event last year did a lot of good for our local food banks.
"We did a thousand pounds last year and I think it was upwards of 200 - 300 dollars in cash donations that we had last year. This year, same as last, we will have the Brampton Ironman back this year. He has a fully functioning suit - all voice activated, it opens and closes and makes all the sounds."
Council received the delegation as information.
This year's event is already planned to be bigger than last year with more Spider-People coming from all over Canada and the United States as well as a few guest appearances from other Avengers and comic book characters.