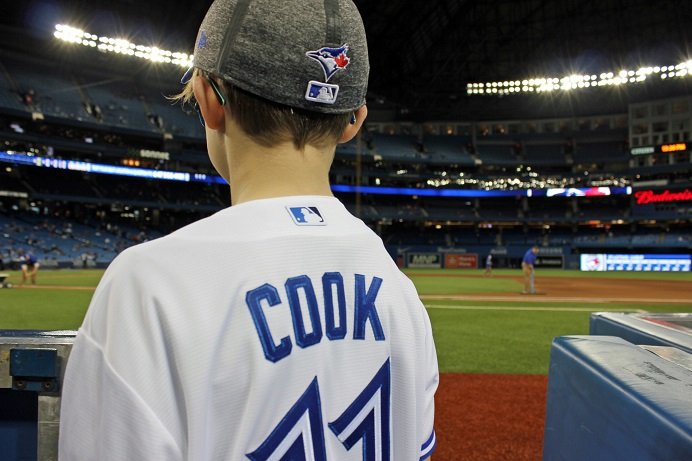 Maybe it was the cows out front, the 1,650 Woodstonians, or the stellar pitch to start things off, but the Jays took down the Rays.
The Jays just can't lose with Woodstock on their side.
23 buses full of eager Jays fans left the Woodstock Civic Centre bound for Toronto on Saturday morning.
One little boy had a bit of a nervous trip to the big city - eight year old Josh Cook had been picked for the ceremonial first pitch of the game. He was a man of few words as a convoy of dignitaries and media members accompanied him through the underbelly of the Rogers Centre. The procession caught the eye of Tampa Bay's Evan Longoria who lobbed a ball to Josh as he continued on his way to the field - a souvenir he won't soon forget.
When the big moment arrived the pint sized pitcher strolled out with confidence. Despite shouts from the crowd and suggestions from the staff, Josh refused to move closer for the pitch, and instead simply squared his shoulders and brought the heat - a perfect pitch.
Proud papa Jeremy Cook looked on from the side.
"He said when he came off they asked him if he wanted to go closer and he told them 'No,' so I guess he was pretty confident that when he got out there he was going to throw it to 'em."
Needless to say, if the Jays ever need some relief in the bullpen, they'll know to hit up the Woodstock Wranglers.
In total, over 1,600 Woodstonians made their way to the Rogers Centre to help cheer the Jays on to victory over the Tampa Bay Rays. Communications and Special Events Manager with the City of Woodstock Brad Janssen says that sets a new record.
An online survey will be up shortly so the city can collect feedback.