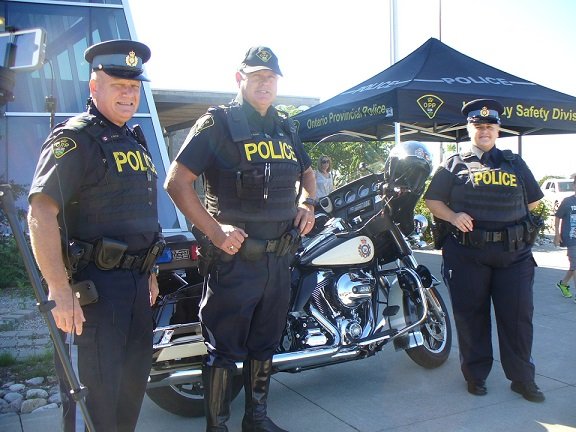 The OPP are meeting face to face with people today to spread the word about the need for motorcycle safety.
The OPP are worried if things don't change soon, we could be looking a very deadly year on our roads for motorcycle enthusiasts.
Right now we are on track to surpass last year's number of fatalities in motorcycle related collisions. At least 23 drivers and 3 passengers have been killed so far according to OPP Constable Stacey Culbert.
"Most of the intersections, that's where we see the collisions occurring. They're occurring on beautiful days, sunny days, good road conditions. We've had an increase in motorcycle fatalities which is a number we don't like to see."
Officers from the Highway Safety Division and the OPP Golden Helmets Motorcycle Team are at the Oxford OnRoute today to get the word out. They will be there from 10 a.m. until 2 p.m. educating all drivers about road safety when it comes to motorcycles.
Sergeant John Slater says people in larger vehicles have to be aware of motorcyclists as well.
"[Motorcycles] are sometimes more difficult to see than a car and they have to train themselves to learn to look for the motorbike - the single headlight. A lot of people perhaps see a single headlight and believe that its a car further back, where the motorcycle is much closer to them."
According to an OPP release, 48% of the number of motorcycle fatalities that occur on OPP patrolled highways occur here in the West Region.