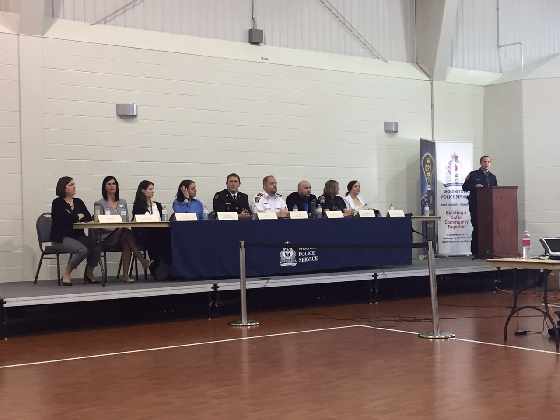 Participants walked away armed with information after open and frank discussions about fentanyl in Oxford County
Eight different organizations teamed up to stress the dangers of bootleg fentanyl.
Representatives from Woodstock Police, OPP, Oxford EMS, Woodstock Fire, Oxford County Public Health, the Woodstock Hospital, CMHA Oxford, and Addictions Services of Thames Valley gathered at Cowan Park yesterday to educate the public and answer questions.
Fentanyl is an opioid that is 100 times more powerful than morphine. When it is prescribed by a doctor it is in a patch form. OPP Detective Constable Chris Auger tells Heart FM how bootleg fentanyl is different.
"This is a powdered form that is being brought in from various areas be it imported from different areas, people attempting to recreate it in a lab is also possible. This is not something you get authorization from a physician - it's purely just a powdered form that we are seeing coming that way."
Carfentanil is 100 times more powerful than regular fentanyl. It is used to sedate large animals and 2 to 3 grains of salt worth could cause an overdose. Carfentanil has been seized in Oxford County.
Woodstock Police Constable Nikki VanLeeuwen confirmed the presence of bootleg fentanyl in Woodstock during the discussion. She says the drug is being referred to as "popcorn" on the streets and police suspect it is to blame for two recent deaths in the community.
Woodstock resident Lisa Acchione attended the forum Tuesday afternoon. She says it was very eye opening.
"I think the statistics and the reality that yes it is here in Oxford County that there are suspected deaths that have already occurred - I think that was very informative and kind of a reality check that we are a part of everything that is going on."
Jenn Lynch works in the Woodstock Hospital's emergency department. She took away a lot of valuable information.
"I didn't know that naloxone you can get for free and you can get the kits at any pharmacy, so that's a good resource that we can tell some of the patients that come in. I also didn't realize how potent it was, so getting all those facts and statistics was really interesting as well."
The Take Home Naloxone Kit has saved at least 9 lives in Oxford County so far. In all of those cases no one called 911 afterwards with the main reason being they were afraid of arrest. As of Thursday the Good Samaritan Drug Overdose Act will protect those who call 911 to report an overdose.
Two panel discussions were held at Cowan Park; the first at 1:30 p.m. and the second at 6:30 p.m. The Woodstock Police have posted a video of each discussion on their Facebook page.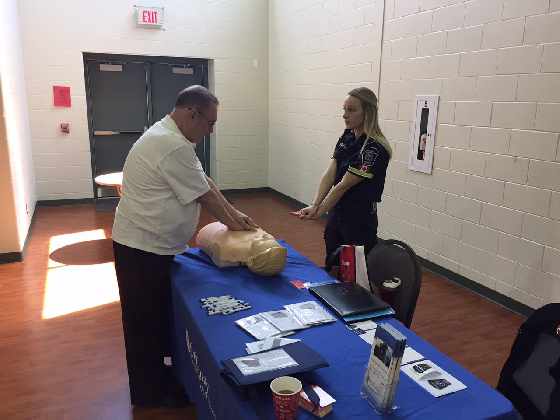 An Oxford County EMS information booth walked people through basic CPR training after the panel discussions.