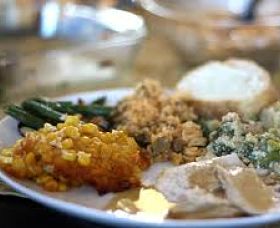 Experts say slowing down, and eating a protein-rich snack, can help curb overeating this holiday season.
OXFORD COUNTY - Slowing down your pace could help you avoid overindulging this holiday season.
With many gatherings this time of year, it's easy to lose track of the calories you're consuming.
Registered dietician and Public Health Nutritionist Katie Neil says it's important to have a protein rich snack before you go to a dinner. "Protein is digested a little bit slower by the body so it helps to really make you feel full. If you go into one of those meals feeling and opportunities to eat feeling just satisfied rather than starving, it's a little easier to be selective and make a healthier choice whether that be the type of food you chose of the quantity and portion size."
Neil says it's a bad idea to skip a meal in ahead of a gathering. "You're kind of depriving your body of the calories you need throughout the day to function properly and then you're actually more likely to overindulge and make even a poorer choice at that next meal. It's very difficult for the body and that's kind of a normal response to over eat when you have under ate for the rest of the day."
"This is the time for enjoying the company of family, friends, coworkers and other social groups you may be part of. Enjoy and cherish your conversations by slowing down the pace and that includes for your eating and drinking. Try to chew every bite thoroughly and really enjoy each taste and flavour. Slowing your eating pace will not only improve digestion, it also helps to increase meal satisfaction and better gauge your hunger."