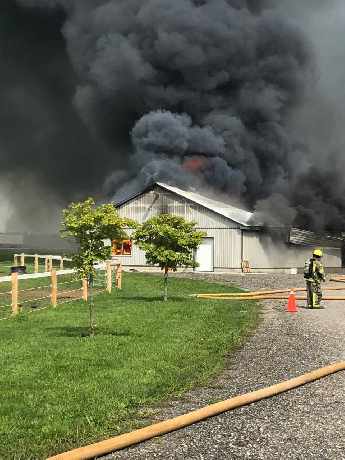 Photo Credit: Jeff Van Rybroeck
South-West Oxford firefighters are responding to a large barn fire in Mount Elgin.
MOUNT ELGIN - The South-West Oxford Fire Department has their hands full at this hour.
Fire Chief Jeff Van Rybroeck and his fellow firefighters are responding to a large barn fire in the area of Highway 19 and Ebenezer Road in Mount Elgin.
"It's a chicken barn but it's currently empty; they were expecting a delivery of more chickens over the weekend. On arrival the barn was fully engulfed, we're working to contain that fire and to protect the neighbouring barn and other infrastructure on the property."
Members of the Norwich Township Fire Department are also assisting on scene.
Van Rybroeck says they don't have a lot of information available at this time.
"It's way too early to determine the cause. Once we get the fire out and it's safe to do so we will move forward with an investigation."
No injuries have been reported and there's no word as to how long it will take to extinguish the blaze.
In the meantime, Ebenezer Road has been closed off. OPP are monitoring Highway 19 and are asking people to avoid the area.
UPDATE (July 31st @ 3:23 p.m.) - Fire crews remain on scene. Van Rybroeck says a large portion of the barn is full of straw and it could take some time to completely extinguish the flames.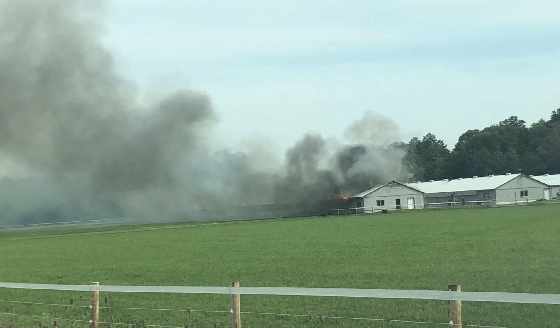 (submitted photo)