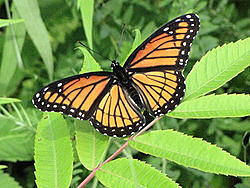 Smith's Pond Park in Ingersoll will soon have a Butterfly/Pollination Garden thanks to some local students.
INGERSOLL - Students at Laurie Hawkins Public School in Ingersoll are doing their part to save the Monarch butterfly.
The class will be spending time at Smith's Pond Park Wednesday planting wildflower seen and non-noxious milkweed to help encourage the Monarch to lay their eggs.
Breelle, a student in Sherri Young's grade 3/4 class says three students from the class made a presentation last month to Ingersoll Town Council asking them to plant their own Butterfly Garden on Town Property.
"They listened and we used our voices and spoke up about the Monarchs so we were pretty happy."
Ethan says the garden is needed to help combat the rapid decline in the Monarch butterfly population.
"We got most of the idea from the plants because we had this presentation and people came and were talking about how native flowers to Canada help the Monarchs and attract butterflys."
Cohen had this to say about the project.
"Our butterfly garden is planted with milkweed to save the Monarchs and plants that can attract them to help us. When they do come, they can lay their eggs on the milkweed that we planted so that's why we are doing it."
Compass Partnership along with the grade 3/4 class will be supplying all the plant material, labour and educational signage for the Butterfly/Pollination Garden.
The students raised money for the plants by selling baked good, hand made bracelets and ribbons.