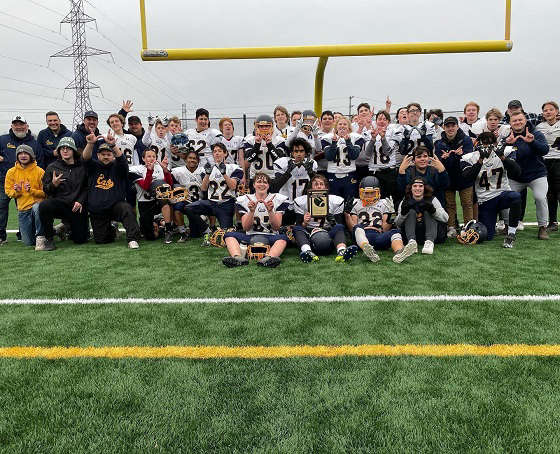 For the first time in the history of College Ave Secondary School, the Junior Football Team has won a championship! The Knights celebrated a 18-2 win over East Elgin in St. Thomas on Wednesday.
WOODSTOCK - College Avenue Secondary School Junior Knights Football team are the 2021 Champions.
This is the first junior championship ever for the school. They beat East Elgin on Wednesday in St. Thomas 18-2.
Head Coach Jaimen Allison says the game was 6-2 in the fourth quarter when they had that turning point moment.
"They run a shallow toss to their right side and we called a particular play that we had practiced, TJ, Murray is one of our captains, he plays outside linebacker for us and he timed it, so that he could pick off the toss. He intercepted the toss, which I have never seen in my coaching career and took it back 82 yards for the touchdown."
The pick 6 made the score 12-2. Allison says his team didn't look back after that point.
"They pinned us deep in our territory and on a key 3rd and long, we were planning on, if we couldn't get the first down on running back and taking the safety, to give them a longer score but we made a gutsy call, where we threw it over the top and had a 40-50 yard completion. We pretty much broke their spirit at that point and rumbled in for the touchdown a few plays later. I'm really proud of these guys, they came together and we have a bright future."
Zehr, Murray and Roberts each scored a touch down for CASS to seal the victory. Allison says it is a really tough division they play in.
"We joined the London TVRA Ross Central Football Conference in 2018, we joined a new conference and we committed to playing both a junior and senior team. This is historically one of the toughest conferences in the Province, really tough team, South Football, they are perennially ranked top 10 in Canada and they come out of the same conference, so really tough teams we have to play in that loop."
Allison says it was an emotional season, after missing last year due to COVID-19. He notes this is a special team and the future is really bright.
They take their football seriously at CASS these days and schools across the SW region are starting to take notice. One thing they do that separates them from everyone else is their social media feeds. These include amazing hype videos and photos. They have a video for each game this season. The video production team from Movement Church is the ones who put it together.
You can follow them on Instagram @college_avenue_football and check out the amazing hype video they did for this season below.