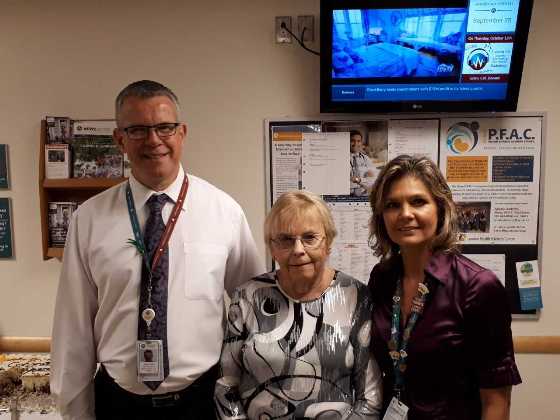 For the past 20 years, patients in Oxford County have gotten their dialysis treatment in Woodstock.
WOODSTOCK - The Woodstock Hospital Dialysis Unit is celebrating their 20th anniversary today.
Since the unit opened in August of 1997, 188 patients have passed through the door and 25 have received kidney transplants. Director of the Dialysis Unit Randy Hicks explains why it is so important for these patients to have dialysis treatment at their local hospital.
"Some of these patients are frail or elderly and the opposite of that is young and working, they have commitments, they have family commitments. It also gets them off those icy roads in the winter and keeping them close to home to their family, improving that quality of life, improving family home life and improving health overall because your not on the roads, your not stressed about the weather, you can get into your treatment and you can get out quickly and get back to your regular life."
Currently 36 patients are getting dialysis 3 times a week, every week at the Woodstock Hospital. Hicks says they have had a lot of success stories at the Dialysis unit in Woodstock over the past 20 years.
"When you look for success stories like transplants and quality of life, you have to view the unit itself as a success. We're here to tend to the needs of all our patients and provide what is, indeed, a lifeline. We are proud to have offered this service in Oxford County over the past two decades."
Haemodialysis Registered Nurse Nancy Eaton says it is a great service they offer to people who need it.
"It's so satisfying to know we give patients a much better quality of life. All surveys show patients are most happy with the fact the unit is close to home. Patients say the unit gives them a sense of camaraderie and comfort, as well as tending to their medical needs."
Patricia Wounch has been getting Dialysis treatments at the Woodstock Hospital and she has nothing but positive things to say about the staff at the Woodstock Hospital.
"Woodstock Hospital has become so familiar and the staff are like a second family. Over the years, the process has gotten so much better from the scheduling to the amenities and location. Dialysis is part of my routine. My quality of life is so much better with treatment close to home."