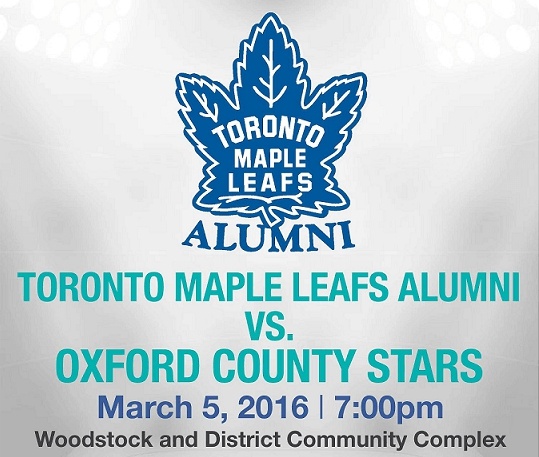 Tickets are almost sold out for tonight's game as Toronto Maple Leaf alumni take on Oxfords best and brightest in a match-up to support the CMHA Oxford
WOODSTOCK- Tonight's the night of the big Maple Leaf's Alumni Game in support of the Canadian Mental Health Association of Oxford.
Darcy Tucker will be headlining the Maple Leaf's alumni squad. He'll be joined by Al Iafrate and Rick Vaive. They'll be taking on the Oxford County Stars - a team comprised of some of the best and brightest of our area. Executive Director of the CMHA Oxford Mike McMahon says its going to be a great game.

"There's going to be 2000 plus people there for sure which means that the atmosphere and opportunity to have some fun on a March Saturday Night is there"
The proceeds from this game are supporting mental health initiatives in our area put on by the CMHA.
The game is tonight at the Community Complex in Woodstock at 7, but tickets are hard to come by. Any extras will be sold at the door, but it is first come first served.
You can find more information about ticket availability here