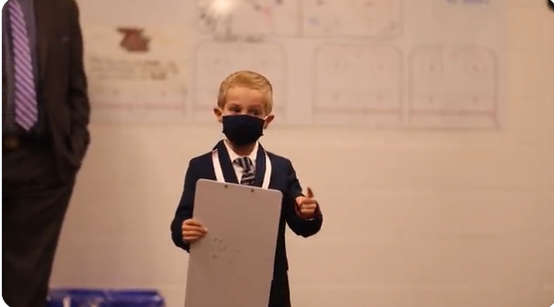 Try not to smile when watching 6 year old Callan Perks fire up the Peterborough Pete's with the best pre-game speech I have ever heard.
Legends are made every day and you could be one of the greats.
That is how 6 year old Callan Perks started off his pre-game speech to the Peterborough Petes on Sunday. The video of Perks speech has gone viral for all the right reasons. Callan won the chance to address his favourite hockey team during the Petes Next Gen game on Sunday. This is where kids sign single day contracts to see what it's like to be on a professional hockey team.
Perks was able to go one step further after auditioning to be the coach for the game and give a pep talk. He sent the team a video that racked up over 55,000 views online. This earned him a chance to be the coach for the Next Gen game and Callan did not disappoint.
Cuteness alert 😍

Take a look at this adorable submission from Coach Cal for our Next Gen game this Sunday! You have until 11:59 pm tonight to submit your videos for positions including GMs, three coaches, PA announcers, and scouts!

APPLY NOW >> https://t.co/o8RUTMBvRD pic.twitter.com/mvJTicOV8B

— Peterborough Petes (@PetesOHLhockey) November 25, 2021
Wearing a suit and tie and delivering his speech with so much passion, that anyone listening would want to run through the wall for the kid, you can tell why this video is gaining national and international attention.
As for the game, the Pete's won 3-2 over Oshawa and I am giving Callan all the credit.
Coach Cal's dreams came true 🙌🏻

On Sunday while Coach Wilson was away at the Capital Cup, Coach Cal delivered this electrifying speech that led the boys to a 3-2 victory over the @Ottawa67sHockey during Next Gen night! pic.twitter.com/DZwFRpBIML

— Peterborough Petes (@PetesOHLhockey) November 30, 2021