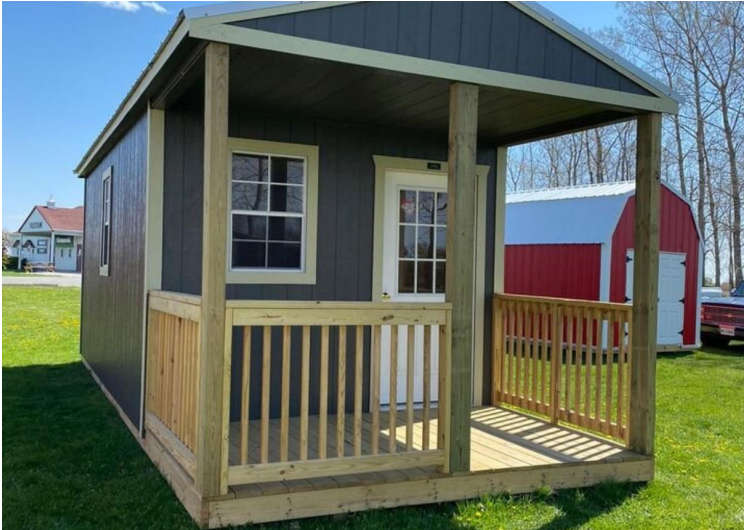 The Woodstock-Oxford Rotary Pathways Transitional Shelter Community will be located in the southwest corner of the Movement Church property and it will include twelve 10x10 cabins.
WOODSTOCK - The Woodstock-Oxford Rotary Club is ready to move forward with the Pathways Transitional Shelter Community in Woodstock.
The plan is to build 12 cabins at the southwest corner of Movement Church and a portable community building. It would be located in a fenced in area with controlled access with security cameras, lights and onsite security. The 10x10 units with a 6 foot porch. The portable community building would be 20x40 and include a common room, washrooms and showers, kitchenette, laundry services and a secure office for social services.
President of Sierra Construction, Cliff Zaluski is throwing his support behind the project.
"In my research this group has made the commitments to make this project a success and I confirm that our company is in support of the initiative."
The tiny homes will be built by Premier Portable Buildings. The buildings will be shipped to the site and then volunteers will finish the interior. They include 100 sqft including a 6 foot porch, 2x6 floor (R20), walls and roof (R14) insulation, electric heat and lights, bed, mattress, pillow and linen provided and a closet for clothing.
Lead Pastor at Movement Church Jeff Price says they think this is a great way to help out community members.
"Our church supports the Pathways Community Transition project and we are happy to be able to offer an area on our property for the cabins. We believe this project is one step in providing solutions to address the complex issues that lead to being without shelter in our community."
Jurgen Van Dijken is on the Woodstock-Oxford Rotary Pathways Organizing Committee and he says they have already ordered the first cabin.
"So the first cabin has been ordered and will be shipped to the site in April and will be used as demo unit for the community to check out. We are currently still in the process to determine which type of community building we will be bringing to the site."
Van Dijken says they have already started fundraising.
"We will be reaching out to the community to ask for support and we are specifically asking local organizations and churches to sponsor a cabin. One cabin is $12,000, including the unit itself and the interior finishing and we will allow sponsors to pick the colours to reflect their organizations."
The community will have on site security and on site social workers, working with the residents.
It would cost over $600,000 to complete this project and that factors in $228,000 in Operational costs, $312,000 in capital and $67,000 in Operational costs.