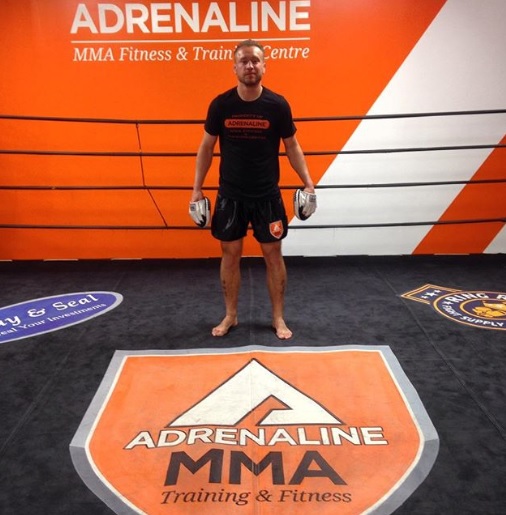 Mark Hominick at Adrenaline MMA Training & Fitness in London Ont. (Courtesy: Instagram)
For the last four years, the Thamesford Trojans have been doing dryland training with former UFC fighter and Thamesford resident Mark Hominick. They train at the Adrenaline Training Center, a gym he owns in London.
THAMESFORD - The Thamesford Trojans have been doing dryland training with former UFC fighter and resident Mark Hominick.
Hominick is an affiliate with the Trojans and he's led players in off-ice workouts at his gym, the Adrenaline Training Center on York Street in London.
He says he's been with them for four years.
"I got contacted years ago by Brad Underwood who was the trainer for the Trojans about doing some dryland training with them, kind of bring my experience as a professional athlete working with athletes and different hockey players, different sports and relay some of my experience to them."
He adds the players knew who he was at the time he started helping them. Hominick was a UFC title contender and prior to fighting in the UFC, he fought in World Extreme Cagefighting (WEC) and he was also the former TKO Featherweight Champion. He retired in 2012.
He says it's a really good team-building exercise and players come in to the gym once or twice a year.
The Trojans beat the Dorchester Dolphins in the second round of the PJHL playoffs last Friday, winning their best-of-seven series 4-1 and they'll face the Exeter Hawks in the Yeck Division Finals.
Hominick says one of the things that's very relatable between mixed martial arts and hockey is footwork.
"We brought a lot of the footwork drills that we do, whether it's the speed and agility and even the boxing. The boxing footwork helps with the hand-eye coordination as well."
The sessions include footwork and agility exercises and martial arts training.
He says offering this kind of training benefits them on the ice.
"It's seeing how a professional athlete from the sport of mixed martial arts trains. I think some of the athletes in our sport are known as some of the best in the world and I think just showing the type of training that we use and they can relate to their training and add to their game."
Head coach John Caldarozzi explains what Hominick has done for the players.
"The thing that Mark helps us with is it's not just physical, he helps these guys with emotional and mental things that's he's gone through, things that I've never gone through and I can't help them with. And their parents probably can't help with either so Mark's an invaluable resource for us."
Hominick was born and raised in Thamesford and he grew up watching and supporting the Trojans. He says he and his daughter went to watch Thamesford play against Dorchester in Game 1 on February 28th.
He says he still follows the UFC and he trains regularly.
"My job is running the Adrenaline Training Centre so that's what I do day in and day out, so I do have a handful of athletes that I do work with and the biggest thing that I try to do with them is try to lead by example. So I'm on the mat every day with them and that's one thing I think very few leaders do is lead by example and that's what I try to do every day on the mat."
Hominick lives in Thamesford with his family.