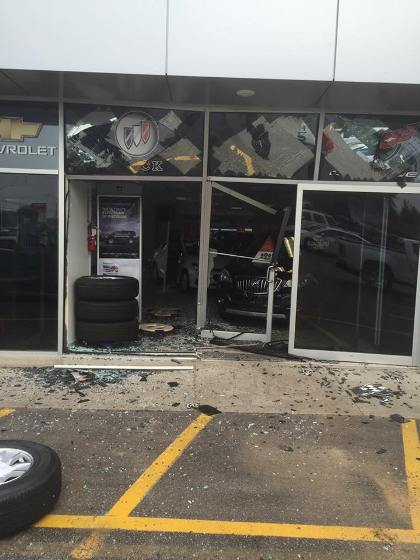 Rims and Tires were stolen from Anderson's GM over night.
WOODSTOCK - Woodstock Police are investigating after a sophisticated break and enter at Anderson's GM in Woodstock.
Last night a truck was stolen from Dorchester. Woodstock Police Constable Nikki VanLeeuwen tells Heart FM the stolen truck was then used to crash into the dealership, where a number Tires and Rims were stolen.
"A pickup truck reversed and smashed into the doors and they stole three sets of truck tires and rims, we have found out so far that the suspect vehicle was stolen out of Dorchester overnight."
She says it looks like this could have been a well planned heist.
"It looks like probably a couple of people, it looks like it was planned, they dumped the truck on Pattullo Road and they would of had to have another vehicle there to pick them up so it looks like this was an organized group."
Police found the stolen truck this morning. The Tires and Rims are worth an estimated $5,200 and the damage to the business is estimated somewhere between $10,000 and $15,000.