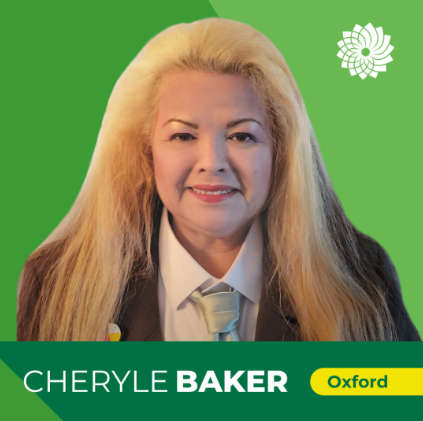 Photo Credit: Green Party of Canada website
Cheryle Baker is a business entrepreneur from Elmira and she would like to become a Green Party Member of Parliament for Oxford County.
OXFORD COUNTY - A business entrepreneur from Elmira is representing the Green Party in Oxford County once again.
Cheryle Baker ran for the Green Party of Ontario during the provincial election last year and now she's representing the Green Party of Canada for the upcoming byelection in Oxford.
She works very closely with businesses across the globe in order to improve their operations but she actually got her start in Oxford when she was a teenager.
"I was living in Norfolk County and I came over to Oxford County to work in the harvesting fields. I saved up all of my money, got my first apartment, my furniture, and my car. So Oxford County gave me my first start."
She says her international business experience makes her the most qualified to be our next Member of Parliament.
"I have a lot of experience using NAFTA, which importing and shipping in the automotive industry and the agriculture sector. I have a lot of experience internationally as well with our trade deals, I have to deal with countries that do not have a democracy. When you are doing trade deals and business, you need someone experienced in parliament who can defend the people and create a better policy with really good decision-making."
If she becomes our next MP, Baker would like to address the inflation rate and provide supports for the agriculture industry.
"We need to be more supportive of our agricultural society, farmers, and the people who feed us and create the farmlands all across Canada. There should be more wealth distribution there, more supports, and more services for them. We should not have to go into another country to get the products that feed us."
Baker says her family has been located in Oxford for over three generations now and she would be open to moving back to the area if she wins the byelection.
Oxford County residents will head to the polls on June 19th.