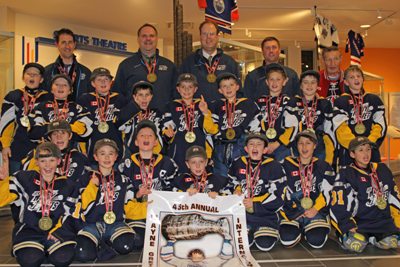 Photo and information provided by Chris Readman
The Minor Atom Navy Vets captured the title and went undefeated
BRANTFORD - The minor Atom Navy Vets have captured the title at the 45th Annual Wayne Gretzky International Hockey Tournament in Brantford.
The boys were able to go undefeated over the 3 day tournament. In order to capture the Minor Atom division they first defeated the Avalanche 5-0, then the Burlington Eagles 3-1. Their third game was against the Halton Hills Thunder with a 2-1 victory. The final round robin game was against the St Catharines Warriors which they won 9-1. The semi final match was a victory over the Halton Hills Thunder 2-0 and then finally the Championship match was against the Burlington Eagles and they defeated them 3-1 to take the title.
The Minor Atom Jr Navy Vets have now been Champions in the London SSE Tournament in late November and the Gretzky tournament at Christmas as well as runners up at the Rochester tournament in mid December.