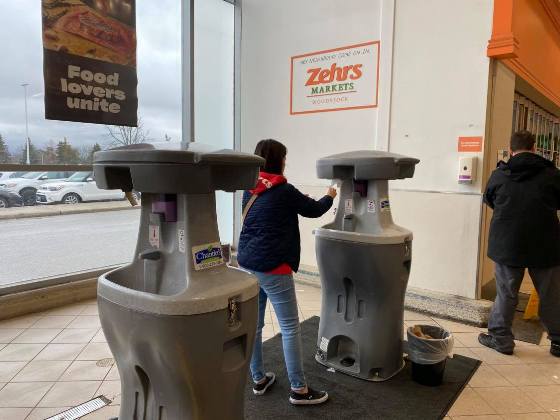 photo courtesy Wes Mazur
Sobeys announced today they will start installing Plexiglass at checkouts, Loblaws is reducing hours and the Zehrs in Woodstock installed new sanitation stations today.
WOODSTOCK - Local grocery stores are starting to take extra precautions to protect their employees from COVID-19.
Sobeys announced today they are going to start installing plexiglass at the checkouts at all of their locations. In a release Sobeys states they have looked at best practices and these shields stand out as a strong safety precaution.
Also the Zehrs in Woodstock has installed new sanitation stations which are pictured in the article. The Independent in the Town of Ingersoll has also installed new sanitation stations as well.
Most stores are not accepting cash and if you bring a reusable bag, you must keep it on your person and you are not allowed to place it on the checkout counter and staff will not help you fill the reusable bag.
They are asking customers to leave the reusable bags at home and they are providing plastic bags at no charge.
Loblaws is also reducing hours from 8:00 am to 8:00 pm to allow staff to get some rest. They will be open for one hour at 7:00 am for seniors. Cashiers are also be rotated out every 30-60 minutes.