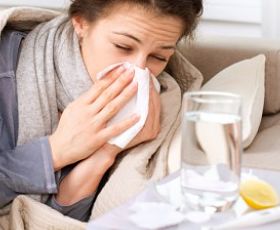 The flu season is underway in Oxford County, with 13 confirmed cases of the H3N2 strain.
OXFORD COUNTY - Oxford County currently has 13 confirmed cases of influenza and 6 of those cases have been hospitalized.
The H3N2 strain is mostly being found in people over the age of 60.
Elaine Reddick, Program Supervisor of Health Protection tells Heart FM about the symptoms.
"It's a respiratory disease so mostly people will have a fever and a cough. The other symptoms they may have are headache, achy muscles, sore throat. Usually you are quite fatigued with flu; unlike a cold with flu it's very hard to get up and move around."
Influenza can greatly impact adults over 60, children under 5 and people who are already seriously ill.
Reddick says people should really get the flu shot if they haven't already.
"This year we are seeing so far that the vaccine is a good match with what's circulating so you can cut your risk way down by getting immunized."
The shot is being offered through doctor's offices and pharmacies. Oxford County Public Health also offers free immunization clinics but you have to call 519-539-9800 with the extension 3490 to make an appointment.