Thomas Rutherford (Courtesy: OPP)
Police are looking for a man who was last seen in Ingersoll earlier this month. If anyone has come into contact with Thomas Rutherford contact the OPP.
UPDATE: The Oxford County OPP Major Crime Unit and OPP West Region Criminal Operations is investigating the disappearance of 31 year old Thomas Rutherford.
Detective Inspector Brad Robson of the OPP Criminal Investigation Branch is leading the investigation. If anyone has any information of his whereabouts they are being asked to contact the Oxford County OPP Detachment at 1-888-310-1122.
OXFORD COUNTY - OPP are asking for the public's assistance in locating 31 year old Thomas Rutherford.
He is about 6 feet tall and 165 lbs with brown hair and blue eyes, wearing black & yellow winter coat, black sweater, blue jeans.
Police believe he was last seen on December 3rd around 7pm in the town of Ingersoll.
Anyone with information of Rutherford's whereabouts is asked to contact Oxford OPP.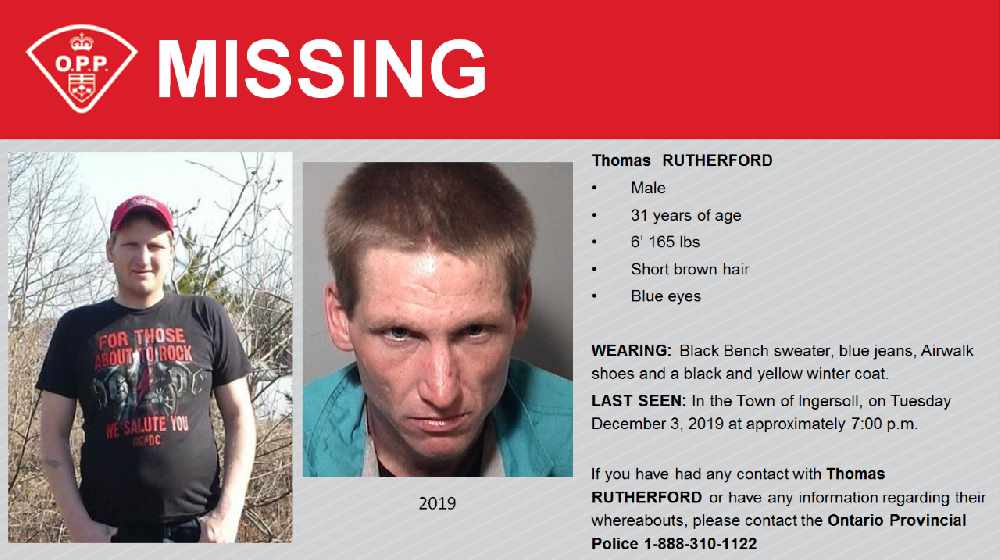 MISSING: #OxfordOPP continue to look for Thomas RUTHERFORD who was last seen on December 3rd, 2019 in #Ingersoll. If you have any information please call 1-888-310-1122. ^aw pic.twitter.com/9bxH8Qmhw2

— OPPCommunicationsWR (@OPP_COMM_WR) December 16, 2019