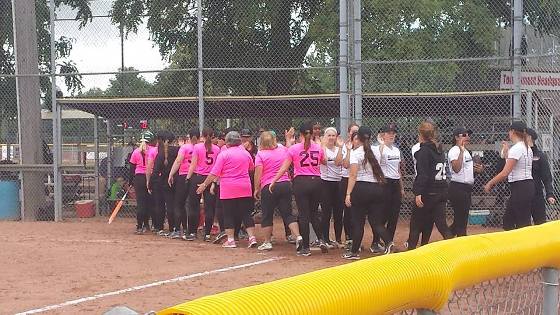 A walk off homer in the bottom of the seventh gave the 13th annual Gord Marshall Memorial Tournament a perfect storybook ending.
INNERKIP - The 13th annual Gord Marshal Memorial Tournament was another smashing success in Innerkip and Hickson.
Sunday was the championships for Tier 1 and Tier 2. Milverton AW Millwrights won the Tier 2 championship with a nail biter beating the Lac St Louis Lions from Quebec 1-0. Media Rep for the tourney Kyle Smith says the game got pretty exciting in the 7th inning.
"There was a little bit of a excitement in the 7th inning when Quebec was able to get a runner over to 3rd, one of their batters came up and hit a triple with two out, so Milverton had to be careful and then right after that they had a comebacker to the pitcher and were on to a championship."
Smith says the Western Ontario Storm team won the Tier 1 championship after coming into the bottom of the 7th trailing the defending champs Whitby Eagles 3-1.
"Western was down to their last out with two out in the inning with a runner on second and still down by 1 and they were able to get it past the left fielder into the corner for a walk off home run, so two really great finals to finish off the weekend."
Smith says they are still taking the final tally's on how much money was raised this year. All of the funds will go towards the Canada Mental Health Association of Oxford County.