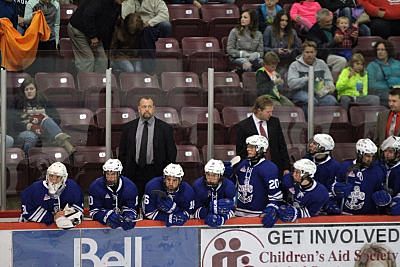 Woodstock Navy Vets head into holiday break sitting in third place after a big game against New Hamburg.
WOODSTOCK - It was high-scoring action between Woodstock and New Hamburg Tuesday night.
The Vets hosted the second place Firebirds at Southwood Arena for their last game before the Holiday break.
New Hamburg took a demanding 4-1 lead at the end of the 1st period but the Vets stormed back to tie the game 5-5 after 2 periods of play.
The Vets scored early in the 3rd period to take their first lead of the game 6-5 but the Firebirds scored three unanswered goals to take the win.

Jake Schneider and Dylan Wettlaufer each had two goals and one assist for the Navy Vets while Dan Haig and Mackenzie Langford had the other goals. Mike Gillespie, Austin Richardson, and Justin Elms each had two assists in the game. Mike Roefs started in the Vets net and was replaced by Jackson Swindells; the tandem faced 33 New Hamburg shots.
Woodstock head into the holiday break sitting in third place with an 18-13 record.
The Vets return to action on Saturday night December 27 in Paris.