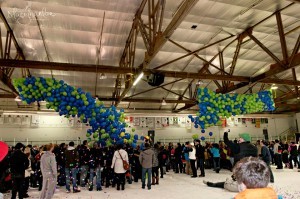 A mock New Year's countdown being help at 9pm
INGERSOLL - Ingersoll Family FUNomenon is back again for the third year.
The annual event held on New Years Eve at the Ingersoll Arena features a skate, entertainment for kids, a bouncy castle and a special early New Year's Eve countdown on the ice. "There's a mock New Years countdown for the kids leading up to 9 o'clock and there's a massive balloon drop over the ice, where we all put our boots on and go stand under the balloons and let them fall on us," said David Cripps, Executive Director for PlayRight Playgrounds. Over 1000 balloons will drop when the clock strikes 9.
Some of the activities include a raffle sale, food, free skating, kid's entertainment, and photo booths, face painting. Tickets for the event can be purchased at the door on New Years Eve for $5 per child or adult. Those who are interested in getting involved with the event can contact Cathy@playrightplaygrounds.com.
Cripps adds, "We offer the opportunity for high school students to gain their community service hours." A current police check is required to volunteer.