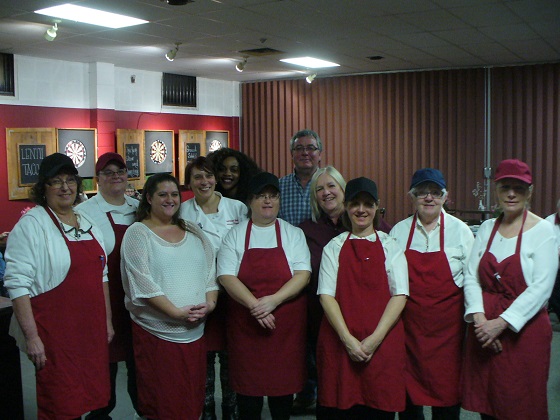 Bullwinkle's Eatery celebrated a soft launch today and will officially open to the public next Tuesday.
WOODSTOCK - After months of planning and preparation and renovations the Bullwinkles' Eatery located inside the Moose Family Centre is now a reality.
The concept is designed to replace the idea of a soup kitchen and the restaurant is set up so that everyone in the community, regardless of your status can come by and enjoy a delicious meal. The all you can eat buffet will run every Tuesday and Thursday and patrons will be charged on a sliding scale depending on how much they can afford with a minimum donation of 50 cents. The eatery will be open from 11:45 AM to 1:30 P.M.
This is run by Operation Sharing in partnership with the Salvation Army and the doors will be open to the public this Tuesday. Executive Director of Operation Sharing Stephen Giuliano tells Heart FM why they decided to ask for a minimum donation.
"I think their is a sense of dignity, not only to be able to eat with other people from different walks of life and different backgrounds and also to serve yourself, in an all you can eat buffet, I think that's valuable and I also think it makes people feel better when they are able to give back."
Bullwinkles' is run entirely not for profit and all of the donations will go towards purchasing the food. Some of the less fortunate people can purchase a card when they have money handy for only $4 and that will guarantee them 8 hot meals at Bullwinkles'. Giuliano says in the future they are also going to reach out to local service clubs to see if they want to host meetings or sessions at Bullwinkles' to help raise some money to pay for the food.
Part of the whole concept was getting a partnership with the Moose Family Centre. For the past year they have been working hard to completely renovate the centre. If you haven't seen it lately, it almost looks like a whole new place. Giuliano tells Heart FM they have to thank so many amazing volunteers for coming together and making the dream a reality and really wanted to single out Sierra Construction.
"They enlisted some of their professional contracts and their are a lot of other businesses that could be mentioned, but it was through there coordination of all this that they have done a miraculous job and their top notch, I watched their capabilities on the construction end of things, these folks know what their doing."
Acting Administrator for the Moose Family Centre Al McKay says the renovations are going to wonders for the Family Centre as well.
"We've had a lot of people wanting to do rentals, weddings, different things like sporting events, they've come in and seen the whole transformation of the place and I have to say, I'm not for words but the whole process is amazing."