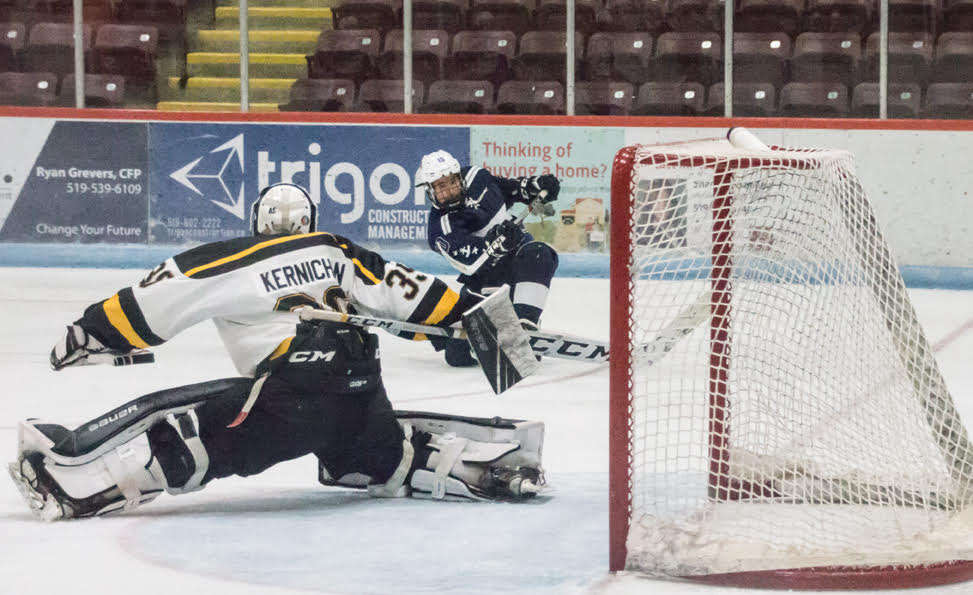 A huge showdown in Tavistock tonight as the Woodstock Navy Vets put sole possession of first place on the line against the Braves.
WOODSTOCK - A big game tonight for the first place Navy Vets.
Woodstock heads to Tavistock to face off the Braves. Tavistock is looking strong again and only 2 points back of Woodstock in the standings. Head Coach Darren Young says this is a measuring stick game for the Navy Vets and a team they haven't beaten yet.
"We had them opening weekend, I though we played a pretty good game but unfortunately we couldn't put the puck in the net and lost 1-0 in Overtime. Tavistock is always a good club and they have another strong club this year. Tavistock and Hespeler are the only two teams we haven't beaten this year, although we haven't played Hespeler yet.
The Navy Vets will take on Hespeler on Sunday afternoon for another road game, so no games at Southwood arena this weekend. Young says they need to play a smart game to get 4 points this weekend.
"We need to stay out of the penalty box, I think Tavistock has the best powerplay and penalty kill in the division, so for us we need to limit the special teams time and then play our game."
Elsewhere around the league, Norwich is hosting Wellesely tonight, and a Merchants win would be good news for the Navy Vets and Burford takes on New Hamburg.