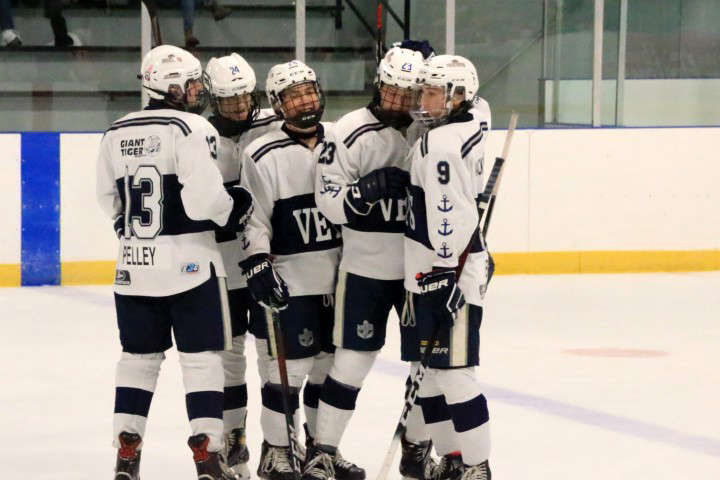 The Woodstock Navy Vets extended their winning streak to 4 games and both Tavistock and Norwich picked up victories this weekend as well.
WOODSTOCK - Don't look now, but the Woodstock Navy Vets are enjoying a 4 game win street.
This win streak has helped them get only 1 point back of both Wellesley and Tavistock for top spot in the PJHL standings. The Navy Vets currently sit 3rd overall and created some distance from 4th place New Hamburg over the weekend.
On Friday night the Navy Vets sent the New Hamburg Firebirds crashing down in a 9-4 win at home. The Vets took an absolutely commanding lead in the final eleven minutes of the 2nd period. Mack Easter, Patrick Klazer, and Ty Durston each had 2 goals with Caden Bower, Nolan Brett, and Kyle Baker getting the other 3 goals to seal the games fate. Baker added 4 assists for a 5-point night, while Brett and Bower each added 3 assists for 4-point nights. Goalie Keaghan Brett made 28 saves for the win.
The Vets faced the Burford Bulldogs on Saturday night in Burford. They were able to keep the bulldogs locked up in the dog house with a 10-3 victory.
Woodstock actually trailed Burford 2-1 in the first period. They came back strong to score 9 goals by the end of the game to lock another win in the win column. Caden Bower had 2 goals and 3 assists to lead the Navy Vets to the win. Christian Pelley had 2 goals and 2 assists while defenceman Patrick Klazer added a pair of goals as well. Goalie Keaghan Brett also made 26 saves for his triumphant 8th win of the season.
In other local PJHL news, Tavistock beat Burford 11-0 away while Norwich beat Hespeler 9-4 at home.
Next weekend the Navy Vets will have a chance to tack on to their winning streak as they play New Hamburg away and Norwich at home.