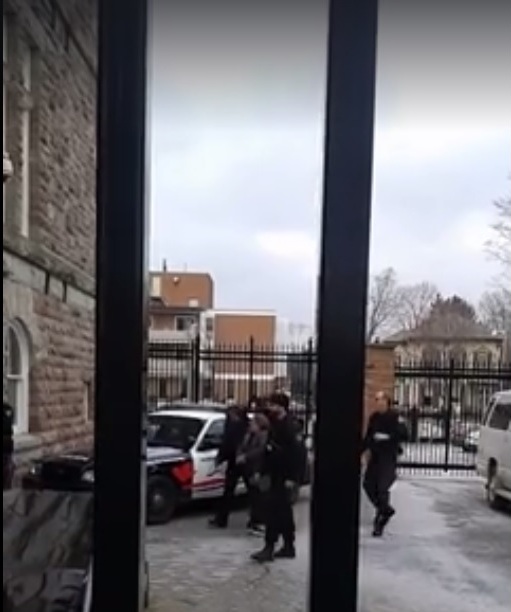 Some major revelations were announced today in the first degree murder case against Elizabeth Wettlaufer.
WOODSTOCK - Elizabeth Tracey Mae Wettlaufer arrived at the Woodstock court house this morning wearing a green prison garb.
She was in court to hear the new additional charges against her. Wettlaufer is facing 8 counts of first degree murder and the six new charges are four counts of attempted murder and 2 counts of aggravated assault.
The alleged aggravated assaults and two of the attempted murders happened at the Carressant Care in Woodstock where she is accused of killing 7 people. The other attempted murder charges happened at the Telfer Place in Paris and at a private residence in Oxford County. Four of the six victims have since passed away and the other two are still living including 77 year old Sandra Towler who continues to reside at Telfer place in Paris.
Wettlaufer was only in court for about 4 minutes today to listen to her charges. She will be coming back on February 15th at 9 am to allow the defence to go over disclosure of the new charges. One of the victims daughters Andrea Silcox was in attendance and says it was tough to see Wettlaufer in person. She was also surprised to watch her sit expressionless during the entire proceeding.
"Absolutely no remorse whatsoever, you know she is just there and she is going to go through it and I do not see any remorse whatsoever, no remorse."
Laura Jackson was also in attendance today.
She is a close personal friend of Maurice "Moe" Granat who is one of the alleged victims in the Wettlaufer case. Jackson told the assembled media she was with her friend Moe right before he died and she witnessed him fighting with Wettlaufer.
"He was declining and we proceeded to the nursing home to arrive to him fighting her off, literally physically fighting her off and when we came in she left abruptly, and a short time later she came in, things happened and we lost Moe within about a half an hour to 45 minutes after that. She was rude to me, because one of us was on one side of the bed and I was on the far side of the bed and I was where she wanted to be and she was ignorant to me, she literally pushed me out of the way to give him an injection."
Another relevation from today is their will be a civil suit pending against the nursing homes.
Lawyer Sandra Zisckind with the Diamond and Diamond law firm spoke to the media and she was with another victims daughter Susan Horvath. They told the media that a civil suit is pending and a lawsuit is in the works. Zisckind says she can't believe that they let this many victims happen.
"It's shocking how long this has gone on for and it is shocking for how long that nobody has uncovered it until recently, it is quite shocking."
The OPP also issued a statement today outside of the courthouse only to say that the investigation is still ongoing which means their could potentially be more victims out there. Sargeant Dave Rektor was unable to provide any details at this time as the investigation continues.
"The investigation is ongoing, I can't speculate on what the investigators are looking at but it is an open investigation, we will follow the evidence, continue to follow the evidence and take it to where it leads us."
Wettlaufers charges date back to 2007 and the most recent case happening in August of 2016. The following are the 8 people she is accused of killing at nursing homes in Woodstock and London.
James SILCOX (84) Carressant Care – Woodstock August 17, 2007
Maurice GRANAT (84) Carressant Care - Woodstock December 23, 2007
Gladys MILLARD (87) Carressant Care – Woodstock October 14, 2011
Helen MATHESON (95) Carressant Care – Woodstock October 27, 2011
Mary ZURAWINSKI (96) Carressant Care – Woodstock November 7, 2011
Helen YOUNG (90) Carressant Care – Woodstock July 14, 2013
Maureen PICKERING (79) Carressant Care – Woodstock March 28, 2014
Arpad HORVATH (75) Meadow Park – London August 31, 2014
As for the new charges of aggravated assault and attempted murder the victims are named here:
Caressant Care – Woodstock, Ontario
Name Age Offence Time Frame
Clotilde ADRIANO 87 Aggravated Assault JUN.-DEC. 2007
Albina DEMEDEIROS 90 Aggravated Assault JUN.-DEC. 2007
Wayne HEDGES 57 Attempt Murder SEP.-DEC. 2008
Michael PRIDDLE 63 Attempt Murder JAN.2008 – DEC.2009

Telfer Place – Brant County, Ontario
Sandra TOWLER 77 Attempt Murder SEP. 2015

Private Residence – Oxford County, Ontario
Beverly BERTRAM 68 Attempt Murder AUG. 2016