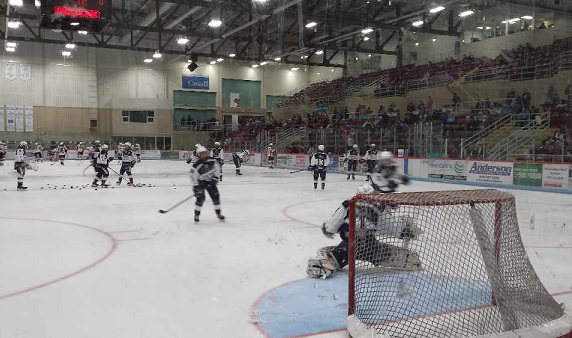 The Woodstock Navy Vets had their 7 game win streak snapped in Wellesley on Saturday night.
The Woodstock Navy Vets fell back to 2nd place in the PJHL Doherty Division standings after a weekend split.
Woodstock entered the weekend in a 3 way tie for first place in the division with Tavistock and Wellesley.
On Friday night they managed to beat Tavistock 3-2 on the road in OT thanks to a goal from Caden Bower.
Then on Saturday the had their 7 game winning streak snapped with a 3-0 loss in Wellesley. Wellesley now has the the top spot in the standings with a 2 point cushion over Woodstock and 3 points over Tavistock.
Woodstock will host Burford on Tuesday night and then on Wednesday Tavistock will faceoff with Wellesley in a key matchup for the 1st place battle.
Elsewhere around the league over the weekend Norwich tied Hespeler 5-5 on Friday night, lost to Tavistock 5-0 on Saturday and they fell to New Hamburg 2-0 on Sunday.
The Thamesford Trojans meanwhile beat the Mount Brydges Bulldogs 5-2 on Friday.