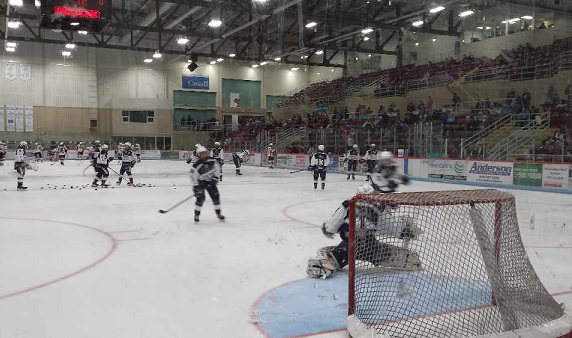 The Woodstock Navy Vets and New Hamburg Firebirds have all the makings of a long playoff series.
WOODSTOCK - The Woodstock Navy Vets are in great shape heading into game 3 of their first round match up with New Hamburg on Friday night.
The Vets split the first two games this weekend losing 4-3 on Friday night and then following that up with a 5-2 win at home Saturday. Head Coach Darren Young says he likes what he see's from his guys right now.
"I think just executing, we feel like we have a good game plan in place to slow them down off the rush and I think our guys are buying in and executing and paying attention to all those details and it is starting to pay off."
Young says the games have been really close and competitive and he anticipates a long series.
"We obviously don't know for sure but it is kind of feeling that way, that it will be a long series, Friday night was a close game, so was Saturday night, I know we won 5-2 but the game was a lot closer than that. There is not much difference between the two teams thus far and there is nothing to suggest that it is not going to be a long series."
Game 3 is happening on Friday night in New Hamburg with game 4 scheduled for Saturday night in Woodstock. Game 5 is scheduled for Monday night in New Hamburg.