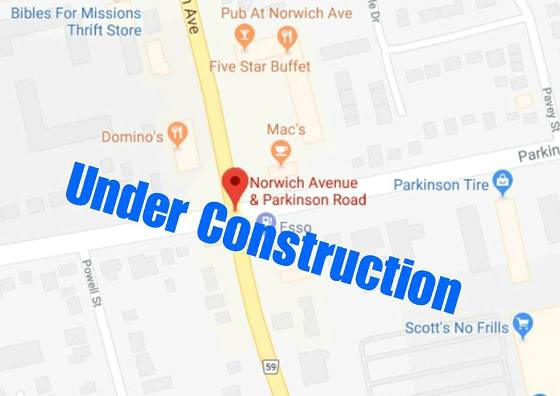 If you need to drive through the Norwich Ave and Parkinson area today; you will want to prepare for some construction.
WOODSTOCK - Construction crews are getting back to work at the Norwich Ave and Parkinson intersection today.
Melissa Abercrombie is the Manager of Engineering for Oxford County. She says there's a lot of work that has to be done.
"They need to remove some of the temporary asphalt sidewalk we installed last year to get us through the winter season and replace that with concrete sidewalk. There's a bit of more curbing work that needs to get done around the Mac's Milk corner as well as some boulevard restoration; we need to raise all the manholes and water valves throughout the intersection to allow for the top coat of asphalt to be paved and line painting to occur."
She says it should only take a few weeks.
"So right now they are anticipating anywhere between four and six weeks; it will depend on how quickly we can get the crews in there, how much unknowns they deal with as well as the weather."
Norwich Ave is down to one lane in each direction and the east access to Parkinson is closed off.
Abercrombie says they do have another construction project on the horizon for another part of Norwich Ave this summer. Crews will have to fix a centre line crack in the asphalt, which may cause more road restrictions.
That project should take place in either July or August and Abercrombie says it should be a quick fix.