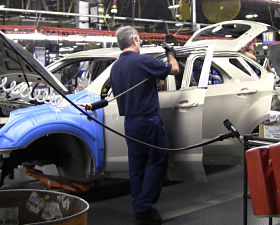 Over 600 CAMI employees have been given their official layoff notices.
INGERSOLL - More than 600 CAMI employees now have official layoff notices in hand.
News about the layoffs broke at the end of January, and Unifor Local 88 Plant Chair Mike Van Boekel says they are doing all they can in the time they have.
"Right now they are following the law. They have to give 16 weeks notice so it will take effect in July. Right now they're just going by the law, so people will be here working longer than the layoff currently states but we're still working on timelines."
The announcement of the layoffs came just a few weeks after GM announced production of the GMC Terrain would be moving to Mexico.
Van Boekel says these are good, highly skilled workers who will be out of a job come July. He hopes many of them will find ways to land on their feet again.
"There will be a lot of very well trained people that will be out of a job who can very quickly understand a lean production system. So they'll fit very well into a lot of different manufacturing scenarios. We will put letters out to the community over the next month or two letting them know there is a very good workforce here that could be hired."
In the meantime the union continues to meet with GM in Detroit to try and mitigate the damage by putting together packages for early retirement.