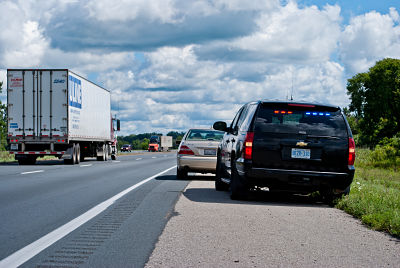 A OPP Cruiser was struck on highway 401 while responding to a collision
(THAMES CENTRE, ON) - A member of the West Region OPP Highway Safety Division escaped injury while responding to a collision on Highway 401, near Putnam Road.
Yesterday at approximately 12:00 p.m., the officer responded to a single motor vehicle collision where a vehicle had struck a light post. While at scene, the fully marked police cruiser with emergency lights activated was struck by a black pickup truck.
The officer was outside of the cruiser at the time of the collision and did not sustain any injuries. The driver of the black pickup was not injured.
Motorists are asked to please use caution when driving, especially when approaching stopped emergency vehicles and tow trucks.
No charges were laid as a result of this collision.